Cover Ten
---
Cover Ten is a little card game that I am currently working on right now. I am writing this game using Visual Basic but, when I am finished I plan on recreating the game with Visual C++. Come back soon for more screen shots.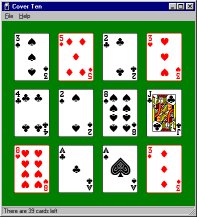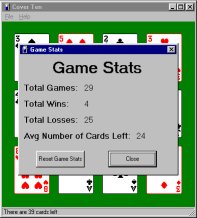 Download Now (2.1MB)
How To Play
The key to this game is to play all the card that are in the deck. There is twelve slots available to you to place cards. Click on an open slot to place the next card there. When to cards add up to ten, select both cards and they will be replaced with two new cards. When all four face cards of the same value have been placed, you can select all four face cards for replacement. Finally when a ten is shown, it can be replaced by itself. Note: the help section of this program is currently not working yet. Enjoy.....
---